Paint Night For Kids!
Instructor Sarah Miller Totten
Join Sarah for a fun evening creating your very own painting!  Individuality and freedom of expression is encouraged. Our young artists will  learn a few different painting techniques and we explore a winter themed painting.
Grades 4th-6th.
Friday, Feb. 28 from 7:00-8:30  $30    Full!   New session will be posted soon.
Fall Leaf Dish
Nothing says autumn like the beauty of falling leaves. Capture the magnificence of the season in clay as you make a small dish by imprinting a leaf into a slab of clay and curve its edges. Perfect for the novice or for anyone who loves to create. Great for candy, jewelry, or a tea light. Enjoy this dish your self or give it as a gift.
Material fees included for one small dish. Additional leaf dish is .06 cents per cubic inch (about $6-8) payable in cash or check
Thursday Nov 7th 1:30-3:30   $60
Scented Soap Making
Make your own fall-scented soaps using essential oils or fragrance oils as well as natural soap bases like shea butter and goats' milk. You will learn soap making techniques including casting into decorative molds and marbling. Learn to wrap your soaps beautify and take your scented creations home with you!
$15 Materials Fee payable to instructor
Sunday, November 24th   1:30-3:30 PM   $50  

ADD TO CART
Holiday Hand Building Workshops
Create the spirit of the season with a little handmade festive cheer. Simple and fun to make, these projects are perfect for beginners anyone who wants make something beautiful this holiday season. Material fees included for one small project each workshop. Additional projects $5-8 each payable in cash or check at the workshop.

Snowman Candy Dish
Everyone's favorite snowman makes a cute candy dish to decorate your table—or someone else's—this holiday season. Make this simple piece and paint it using instructor-led techniques with underglaze the same day. The studio will finish your work with a shiny coat of clear. All of our glazes are food safe.
Tuesday, November 19th  2:00-4:00 $60  ADD TO CART

Angel Candle Holder
Make these heralds of the season and let these angels light up your holidays with their glowing hearts.
Thursday, November 21st  12:00-2:00 $60  ADD TO CART

Angel Candle Holder
Heralds of the season, light up your holidays with this angelic cookie-cutter candle holder!  Simple and fun to make, materials are included for one candle holder which will be glazed white for you & yours.
Friday, November 22  5:00-6:00 Kids grades 3-5:  $35  ADD TO CART
Friday, November 22  5:00-6:00 Kids grades 3-5 & their Adult: $65 ADD TO CART
Friday, November 22  6:30-7:30 Kids grades 3-5:  $35    ADD TO CART
Friday, November 22  6:30-7:30 Kids grades 3-5 & their Adult: $65 ADD TO CART
Pop-Up Snowman Cards
Pop in to the holidays with these cute kid-made cards! Perfect for giving to a relative or family friend or to bring holiday cheer to your own table or counter.
Monday, Dec 9th  6:00-7:00 Kids grades 3-5 $35 ADD TO CART
Wavy, Ruffled Bowl
Taught by Elizabeth Barksdale
Fun and easy, come create this unique bowl using simple instructor lead techniques. These one of a kind creations make a great accent for any table or counter. Use for a small serving dish or for candy, jewelry, or even a candle. Great for your own home or as a gift.
Material fees included for one small bowl.
Additional small bowls .06cents per cubic inch (about $8-$10) payable in cash or check
Date to be Determined
Stained Glass Ornaments
Great for your window or tree, celebrate the season with these fun, easy stained glass mini-sun catchers while enjoying the company of fellow artistically minded people. Materials for one ornament included. Additional supplies available for $5/ ornament payable in cash at workshop.
Trees Wednesday 12:45-2:15pm  Dec 4  
Stars Wednesday 12:45-2:15pm   Dec 11 
Globes Wednesday 12:45-2:15pm Dec 18

Holiday Floral Centerpiece
Instructor Heather Maguire
Create a beautiful floral piece with local designer Heather Maguire at Railyard Arts Studio.  Each attendee receives helpful instruction as well as tips and techniques for designing a beautiful holiday arrangement. Using upscale, fresh-cut florals, winter greenery, ornamental branches, berries and pinecones, participants will create a beautiful piece in a keepsake container to take home. Includes instruction and all floral materials.
Note: Please bring your own floral cutters and garden gloves if possible.
Sunday, December 22    4:00-6:00 p.m    $65   

ADD TO CART
Pottery Transfer & Stencil Workshop
Join us for a printmaking pottery workshop where students will learn the glaze transfer process to make slump mold plates and bowls. You don't need any wheel-throwing skills. Just bring a few sketches of a design for your plate or bowl–and your excitement–to learn about this technique!
Cut-Out Clay Candle Holder
Instructor Elizabeth Barksdale
Make your own ambiance with this lovely cut-out candle holder.  Use small cutters or create your own patterns in the clay and let the light shine though. Material fees included for one small candle holder.
Additional small candle holder .06 cents per cubic inch (about $8-$10) payable in cash or check.
Teen/Tween Photography Class
Instructor Kait O'Brian
In this beginners class for teens and tweens you will be learning basic photography skills and techniques, giving you a better understanding of your camera and how it works.  We will cover composition, depth of field, how and when to use different shutter speeds, along with weekly assignments based on what we learned in class.
7 Tuesdays    4:30-6:00 pm   Mar 16-May 4 
  (No class April 6)   

$240    

ADD TO CART
FREE!

Printing Making Workshop
With renowned artist Tony Kirk
Don't miss this opportunity to learn from the best: Enjoy a free evening of monotype printmaking led by artist, instructor and Master Printer Anthony Kirk. Anthony will guide participants in making unique one-of a kind prints. using non-toxic water-soluble printing ink. (No solvents or chemicals are used). No experience necessary. All materials are provided just bring ideas or sketches for a creative evening in printmaking. 
SIGN UP NOW: Space is limited to 10 students.
Wednesday, January 29  6 – 9 pm. Please email info@railyardarts.com to reserve your space in this workshop.
Valentine's Floral Arrangements
Instructor Heather Maguire
Nothing says "Happy Valentine's Day" like beautiful flowers. Create your own lovely arrangement with local floral designer Heather Maguire. Treat yourself to a class or come with a  friend to create this unique piece for yourself or a loved one. Top off the arrangement with a JL Pottery original handmade keepsake tucked into the flowers. You're guaranteed a bright, beautiful bunch of flowers on Valentine's Day–what's better than that?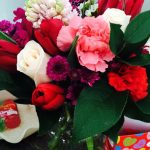 Tuesday, February 11    7:00-9:00 pm   $75 including materials        

ADD TO CART
Paint & Sip!
Instructor Sarah Miller Totten
Grab your partner or friend and unleash your inner artist at the Railyard Arts Paint Night!  You'll go from a blank canvas to a masterpiece of your own with plenty of laughs along the way.  Sip and Paint Night offers a fun, easy, stress-free chance to create a painting you can be proud of.  All you need is to bring yourself and Railyard Arts Studio will provide all the rest! BYOB
Saturday, February 15 from 7:00-9:00    $40      

ADD TO CART
Valentine Paper Quilling Card or Decoration!
Instructor Kerry Irwin
Come learn the art of Paper Quilling!!   Learn the art of rolling, shaping and gluing paper together to create beautiful designs!   Makes a lovely Valentine or decoration for your home.
Grades 4th-6th.
Sunday, Feb. 9 from 4:00-5:00  $25        ADD TO CART
Silk Scarf Painting Workshop
Design, paint and wear your own artwork! Learn how to work with dye and resist to create a long rectangular silk scarf that can be worn year round. Silk scarf and supplies are included!
Sunday, March 1  1:00-4:00 pm   $80          

ADD TO CART
St. Patrick's Day Floral Workshop
Instructor Heather Maguire
You don't have to be Irish to create this beautiful spring arrangement featuring green, orange, and
white blossoms–the colors of the Irish flag. Under the tutelage of local floral designer Heather Maguire, you'll combine green roses, Bells of Ireland, as well as other flowers to design a festive centerpiece that will bring a touch of the Emerald Isle into your home.
Turkish Marbling Workshop
Instructor Christine DiMarco
Turkish Marbling is an Eastern art dating from around 1200CE. Learn this ancient art process as we drop stone ground watercolors onto a size of water mixed with seaweed extract. Designs may be imposed upon these colors and the images will be lifted from the tray with papers coated with a mordant that permanently fixes the images to the papers. These beautiful images may be used as art in themselves, calligraphy, bookbinding, cards and more. Come play and explore this elemental art!
Materials fees are $7 to the instructor.
Saturday, May 2  10:00-1:00 pm    $65          

ADD TO CART
Quilting FUNdamentals
Instructor Julietta Appleton
Log cabin quilts are one of the most popular traditional quilt patterns. Learn to make a log cabin quilt top the easy way, using strip piecing. Taught by quilter and artist Julietta Appleton, you'll learn to:  Cut fabric using a rotary cutter, chain piece fabric, make neat seams, and create a masterpiece you'll always treasure.
The log cabin pattern usually has a red center block, plus three gradated light fabrics on one side of the block and three gradated dark fabrics on the other side. But you can use any colors or fabrics you love (batiks look GREAT), making sure you use contrasting fabrics for each side and a vivid center block.
Fabric you'll need:
½ yard  (1st light)
2/3 yard  (2nd light)
¾ yard   (3rd light)
1/8 yard for center blocks
½ yard (1st dark)
2/3 yard (2nd dark)
1 yard (3rd dark)

Supplies:
Sewing machine
Neutral color thread (i.e. gray or taupe)
Rotary cutter
Scissors or thread nippers
Pins
Reading glasses
   9:30 am -12:30 pm    $100     Coming this Spring!