Click on an Instructor to see their bio
Pottery
Painting and Drawing
*Kids & Teens Instructors
Other Fine Arts
Tom Loggia
Tom Loggia started making pottery as a young boy growing up on Lake Truesdale in South Salem, New York. Tom was 11 years old when he began fooling around with clay on the wheel and quickly discovered the earthly pleasures of creating pottery. His interest became more serious during his high school years when one of his ceramic pieces was selected to be shown in his school's "Evening with the Stars" event. This experience encouraged him to continue creating n his free time. As pottery developed into a passion, Tom became more ambitious, building his own kick wheel and a raku kiln. He spent years teaching himself how to master his craft while also learning to synthesize the materials required in the composition of his art. Over the years while being mentored by Jay Lindsay, a well-known local ceramic artist, Tom participated in many ceramic workshops classes with other accomplished ceramic artists. Tom learned many different techniques to developing his own style and is now excited to pass on the knowledge he has learned to other aspiring ceramic artists at all teaching levels.
Dawn Lyons Munoz
Dawn Lyons Munoz has always been creating and drawing from an early age, and was always immersing herself in art. From Elementary to high school, she could always be found in one of the art rooms during lunch breaks and after school. It was there where her teachers recognized her artistic ability and encouraged, nurtured and pushed her artistic expression.  Dawn has always wanted to be a potter and learned initially on a kick wheel. Her plan was to be a potter after HS, but her path took her in a different direction into education. Dawn went on to college and holds a degree in Elementary Education (N-6) and a Master's Degree in Learning Disabilities (N-12). Dawn always incorporated art into her instruction and projects with her students while she was teaching.
After teaching, Dawn took many pottery classes with David Hughes where he became her mentor. Dawn has taught both adults and children of all ages and abilities in beginning Pottery and focuses on each individual building upon their strengths. Dawn has experience throwing on the wheel, incorporating hand building with thrown pieces, glazing, and raku pottery. When Dawn is not at Railyard Arts, she can be found at her home studio.
Maria Spiess
Maria Spiess holds an MFA n Ceramic Arts from Syracuse University. She has completed residencies at Clay Art Center (Port Chester, NY), Lux Center for the Arts (Lincoln, NE), Woodstock Byrdcliffe Arts Colony (Woodstock, NY), Taos Clay Studio (Taos, NM), Golden Bridge Pottery (Pondicherry, India), and Chautauqua Institution (Chautauqua, NY). Maria grew up in Bowling Green, Ohio, where she also began her pursuit of ceramic arts studies at BGSU.

Hannah Ziegler
Hannah has loved clay ever since she went digging for it in her best friend's swing set. She began throwing in High School, and this passion continued into college where she received her BFA in Ceramics at the State University of New Paltz. While she still enjoys the pottery wheel, handbuilding is where she feels the most creative freedom. Testing the boundaries between functional and sculptural, her most recent work uses handbuilt chalices to express to fluctuation of human emotion and self expression.
Able Broyles
Jess Palmer
Jess Palmer is a studio potter living and working in Port Chester, NY. She received a BFA in Communication Design from SUNY Buffalo. After leaving her full-time career as a Creative Director in advertising Jess discovered a new medium of clay. Jess's work has been published in the May/June 2019 issue of Pottery Making Illustrated and the September 2018 issue of Ceramics Monthly. She has shown her work in both juried and national invitational exhibitions at; The Clay Studio, PA.; Flower City Arts Center, NY.; Clay Art Center, NY.; Baltimore Clayworks, MD., Companion Gallery, TN, Charlie Cummings Gallery, Fl, Clay Arts Vegas, NV, , Silvermine Arts Center, CT, Saratoga Clay Arts Center, NY,
Lauren Rankel
Lauren taught preschool for 20 years on Long Island with a focus on the integration of STEAM concepts and nature infusion before moving to North Salem.  Her goal when teaching children has always been to encourage creative experiences that build confidence and independence in each learner. She carefully develops an individualized curriculum to strengthen motor skills, support problem solving and critical thinking through supportive experiences for the expression of little learners. She graduated Summa Cum Laude from both Long Island University (BS) and Stonybrook University (MS) where she majored in elementary education with a concentration in mathematics as well as a degree in educational technology.  She was the director of a summer camp for children, and taught professional development classes for teachers on how to integrate STEAM and nature programming into the Pre-K through early elementary curriculum.  She currently teaches at Railyard Arts studio, runs the Little Sprouts Nature group in North Salem and does freelance writing for several publications. She authored the book "We Can All Be Helpers" during the pandemic to help ease children over their fear of masks.  She lives in North Salem with her husband and enjoys visits with her adult children and grandpuppy.
Kerry Irwin
Kerry Irwin has taught for more than a decade in museums, community centers and public and private schools. She holds a Bachelor's of Arts in English, with a minor in Art History from Loyola University in Baltimore and Master of Arts in Art Education from Manhattanville College. In addition, she spent a year abroad studying art and literature at Katholeike Universiteit in Leuven, Belgium. Kerry is New York State Certified to teach English and Art.
Michelle Mullaly
Michelle Mullaly is a certified K -12 art teacher with both a BS and MS in art education from SUNY New Paltz. The majority of her 26-year career has been spent teaching art to middle and high school students. The focus of her instruction is learning the foundations of drawing, painting and sculpture using a wide variety of media. In addition to teaching in the classroom, she mentors and advises students on portfolio development for college applications. Michelle is also an active participant with the New York State Art Teachers Association and adjudicates for their portfolio review in the spring. She also has vast experience teaching other educators about visual literacy and its integration into the classroom.
Lynn Cukaj ATR-BC
Lynn Cukaj is a board certified art therapist and has a master's degree in Education. She has worked in the field of art therapy for more than 20 years and has been teaching preschool for seven years. Lynn has experience working with all age groups in both community-based programs as well inpatient and outpatient psychiatric settings. Her goal is to bring art to every child as a way to express emotions and find their own sense of creativity.  Lynn's website is creativeexpressionsconsulting.com.
Sarah Miller Totten
After graduating from the State University of New Paltz, NY, Sarah immediately worked as a professional artist and collaborated with teams to create large-scale paintings for public, private and corporate fine art collections nationwide.
Her lifelong love for art and people unified in becoming the director and an art instructor for the Katonah Art Center for 11+ years. She flourished in creating a collaborative realm of teaching and working artists, became a conduit for helping others to find their own creative outlet through art education.
Through the years, she constructed ideas for art educational programs, taught art for ages 4 through adult using a variety of media. Using art as a vehicle, she found that her love is in offering supportive, creative guidance in helping others of all ages strengthen their unique persona and to connect within the creative community.
Maria Kaprielian
Maria Kaprielian has been painting all of her life, with a passion for the natural world and all it encompasses. Her education includes a BA and DVM degree from Cornell University and a BFA from SUNY Purchase. She enjoys using watercolors in her art because of their luminous and spontaneous nature. Maria wants her students to gain confidence, feel more comfortable, and have fun with this exciting medium. She is willing to help painters of all levels find their unique voice in their work.
Mireille Duchesne
Mireille was born on the coast of Normandie, Province of France which was so loved by the Impressionists, Monet in particular. As long as she can recollect, she always had a color pencil and then a brush in her hands. Being an artist was not acceptable in her family so beside her formal schooling she took night classes at the Beaux Arts in Rouen, then Paris. As a former wife of a French expatriate, she traveled and lived in Africa where she was exposed not only to different cultures and art but to a nature, colors, smells, and climate so much more brutal than that in Normandie. The raw saturated luxuriant colors had and still have a great influence on her palette. When she moved to the United States of America she took classes at the Pastel Society of America in New York with Richard Pionk and classes in oil at the Art Student League in NY with Richard Pionk, Greg Kreutz, David Leffel and later with Frank Arcuri at his studio in Pennsylvania. She is a signature member of the Pastel Society of America Artist member of Salmagundi Club, NY. She received numerous awards for her pastels and oils, among others at the Pastel Society of America, The Catharine Lorillard Wolfe, Salmagundi, and the American artists professional league.
Tyra Abrams
Hello, I'm Tyra Abrams, a native of New York with a lifelong history in the performing and creative arts, a deep love of nature, and a proclivity for jewelry. From an early age I was driven by a strong sense of esthetics.  As an adult, I developed my skills at the esteemed 92nd Street Y Jewelry program in NYC and am also self taught.
Most recently I taught beading classes at a trauma retreat center for women which served to reduce anxiety and promote focus, enjoyment and self esteem.
In 2022 I relocated to Bedford Hills, NY and am delighted to partner with Railyard Arts to establish a jewelry program as an addition to their significant artistic offerings.
I teach individuals and groups and offer my jewelry for sale in addition to creating custom pieces.
Phoebe Katzin
I have been designing and constructing costumes for modern dance companies for 30 years. I started doing stained glass work about 12 years ago as a way of keeping my creative thoughts going, but not be at my sewing machine. I fell in love with glass and all aspects of creating stained glass. I have studied with a stained glass artist ever since and I have been working with him on projects and repairs for the last 7 years. I have been teaching the copper foil method for 4 years. I love teaching and helping students use their imaginations to create works of art.
Jackie Cicogna
Jackie fell in love with millinery and design as a young girl growing up. Her two grandmothers were, respectively, a custom milliner for Bergdorf Goodman, and a coat seamstress. A big part of her childhood was spent on the Cote D'Azur in the South of France where frequent trips to nearby Italy influenced her love for style, obsession with fabric and her appreciation for quality craftsmanship. She had the honor of being trained in the art of millinery under Janine Gallimard at F.I.T, who was herself a milliner for Cristobal Balenciaga in the 50s-60s. Jackie started her own company when in her 20s and sold to stores like Bergdorf Goodman in NYC and Ultimo in Chicago. At the time she had notable editorials in the New York Times, Vogue Italia, and Paper Magazine. She left all of that behind and moved to Paris where she lived for 17 years, and where she began working on the other side of the fashion industry, learning about luxury wholesale and retail at Paul Smith, Ralph Lauren, and Prada. Through these experiences she learned about actively listening to, and responding to clients' needs, as well as the importance of creating balanced collections that fulfill those needs. An opportunity at the NYC Celine Flagship brought her back to NY in 2015. Once again in NY she was able to get her hands on her vintage blocks and materials that she had left behind 17 years prior. She re-discovered her love for hat-making and design. In 2020 Jackie left her management role at Giorgio Armani and plunged headfirst into re-building her millinery business from the ground up.
Kristy Amendola
Crochet has been in Kristy's life for as long as she can remember. Ever since she was little, she would watch her mother and grandmother create crochet projects without any patterns. Since then, Kristy has learned how to make crochet animals and even creates her own patterns. 
Kristy is the owner of KriscraftingCo where she sells her crochet items, patterns and other makes. Her specialty is creating custom animals for others to enjoy. Kristy participates in local craft fairs around the area in Putnam and Westchester county.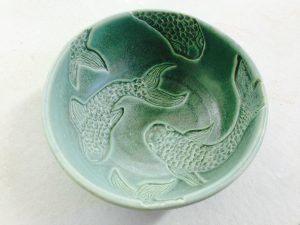 Jill Leary
Jill Leary is a practicing artist and a New York State certified arts education teacher. She has both a BFA in Fine Arts with a concentration in Ceramics and a BA in Art Education from Syracuse University. She has also earned her Master's Degree in Fine Arts. Jill worked for the Brewster Central School District for 11 years as an Art Teacher for ages 8 to 13 where in addition to her regular classes, she inspired children in the Enrichment Creative Arts Program which hosted exhibitions for their talented students throughout Brewster and at the Katonah Museum of Art.  Jill loves to knit and crochet, paint with waterbased oil and watercolor, and is a accomplished ceramicist. Currently, she is showing her work in our local community.
Jeanne Allan
Jeanne is a veteran product designer and developer. An honors graduate of Syracuse University with a specialized 5 year degree in Industrial Design, she spent her career in executive posts creating products collaboratively with world class artisans, designers and retailers.  She now continues to pursue her passions as both a studio potter and in her current position as Artisan Shop and Gallery Manager for Railyard Arts Studio. In her spare time, she gives back to the community through mentoring efforts with Nest, an international not-for-profit organization that assists artisans with developing sustainable products.