Bracken Feldman
Bracken Feldman studied ceramics at Alfred University during her undergraduate years and holds a master's degree in teaching from Manhattanville College. She has been teaching in the Hudson Valley for the past 10 years and returns to Alfred during the summer to continue developing her skills. Bracken has been a potter for 21 years and considers herself to be both a wheel thrower and a hand builder.
Tom Loggia
Tom Loggia started making pottery as a young boy growing up on Lake Truesdale in South Salem, New York. Tom was 11 years old when he began fooling around with clay on the wheel and quickly discovered the earthly pleasures of creating pottery. His interest became more serious during his high school years when one of his ceramic pieces was selected to be shown in his school's "Evening with the Stars" event. This experience encouraged him to continue creating n his free time. As pottery developed into a passion, Tom became more ambitious, building his own kick wheel and a raku kiln. He spent years teaching himself how to master his craft while also learning to synthesize the materials required in the composition of his art. Over the years while being mentored by Jay Lindsay, a well-known local ceramic artist, Tom participated in many ceramic workshops classes with other accomplished ceramic artists. Tom learned many different techniques to developing his own style and is now excited to pass on the knowledge he has learned to other aspiring ceramic artists at all teaching levels.
Michelle Mullaly
Michelle Mullaly is a certified K -12 art teacher with both a BS and MS in art education from SUNY New Paltz. The majority of her 26-year career has been spent teaching art to middle and high school students. The focus of her instruction is learning the foundations of drawing, painting and sculpture using a wide variety of media. In addition to teaching in the classroom, she mentors and advises students on portfolio development for college applications. Michelle is also an active participant with the New York State Art Teachers Association and adjudicates for their portfolio review in the spring. She also has vast experience teaching other educators about visual literacy and its integration into the classroom.
Nina Bertolino
Nina Bertolino is a practicing artist whose works range from abstract to impressionistic. She has a bachelor's from Sarah Lawrence College where she studied painting, drawing and printmaking. She studied for her master's in art education at the College of New Rochelle. After completing her education, Nina worked at a silkscreen atelier where she printed the artwork of many well known artists, such as James Rosenquist, Roy Lichtenstein, and Frank Stella. Nina paints in oils, acrylics, gouache and watercolor. She also enjoys working in pastels and creating mixed media pieces and collages. Currently she facilitates two art groups for acrylics/pastels and watercolors in North Salem. She loves to use bold colors in her artwork and often sees colors in things that others don't. She loves to create and to share her love of art with others.
Sarah Miller Totten
After graduating from the State University of New Paltz, NY, Sarah immediately worked as a professional artist and collaborated with teams to create large-scale paintings for public, private and corporate fine art collections nationwide.
Her life-long love for art and people unified in becoming the director and an art instructor for the Katonah Art Center for 11+ years. She flourished in creating a creative and collaborative realm of teaching and working artists and became a conduit for helping others to find their own creative outlet through art education.
Through the years, she constructed ideas for art educational programs, taught art for ages 4 through adult using a variety of media. Using art a vehicle through her journey, she found that her love is in offering supportive, creative guidance in helping others of all ages strengthen their unique persona and to connect within the creative community.
Kerry Irwin
Kerry Irwin has taught for more than a decade in museums, community centers and public and private schools. She holds a Bachelor's of Arts in English, with a minor in Art History from Loyola University in Baltimore and Master of Arts in Art Education from Manhattanville College. In addition, she spent a year abroad studying art and literature at Katholeike Universiteit in Leuven, Belgium. Kerry is New York State Certified to teach English and Art.
Maria Kaprielian
Maria Kaprielian has been painting all of her life, with a passion for the natural world and all it encompasses. Her education includes a BA and DVM degree from Cornell University and a BFA from SUNY Purchase. She enjoys using watercolors in her art because of their luminous and spontaneous nature. Maria wants her students to gain confidence, feel more comfortable, and have fun with this exciting medium. She is willing to help painters of all levels find their unique voice in their work.
Lynn Cukaj ATR-BC
Lynn Cukaj is a board certified art therapist and has a master's degree in Education. She has worked in the field of art therapy for more than 20 years and has been teaching preschool for seven years. Lynn has experience working with all age groups in both community-based programs as well inpatient and outpatient psychiatric settings. Her goal is to bring art to every child as a way to express emotions and find their own sense of creativity.  Lynn's website is creativeexpressionsconsulting.com.
Drita Selca
As a dedicated wife, and a mother of four children and four pets, Drita wanted to find peace. She joined a yoga class, where she found a new and different kind of love. Practicing yoga helped her grow stronger and more flexible, both mentally and physically. Drita's passion for yoga inspires her to live in the moment. Her focus in teaching is to guide students through a yoga practice where they will build flexibility and strength, while finding inner peace and joy.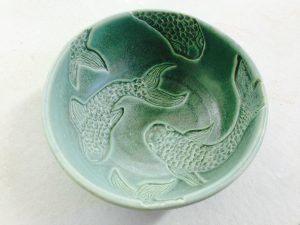 Jill Leary
Jill Leary is a practicing artist and a New York State certified arts education teacher. She has both a BFA in Fine Arts with a concentration in Ceramics and a BA in Art Education from Syracuse University. She has also earned her Master's Degree in Fine Arts. Jill worked for the Brewster Central School District for 11 years as an Art Teacher for ages 8 to 13 where in addition to her regular classes, she inspired children in the Enrichment Creative Arts Program which hosted exhibitions for their talented students throughout Brewster and at the Katonah Museum of Art.  Jill loves to knit and crochet, paint with waterbased oil and watercolor, and is a accomplished ceramicist. Currently, she is showing her work in our local community.
Betty Ann Medeiros
Betty Ann Medeiros is a landscape and portrait artist known for her sweeping compositions, and depiction of light,
utilizing a keen sense of color. She uses brushstrokes to show movement, wind and atmospheric elements. In both Betty Ann's watercolors and her oil paintings, she paints in a realistic fashion, rendering her figures and landscape elements with equal attention to detail. Betty Ann is an alumna of Western Connecticut State University, where she received her bachelor's and master's in fine art and illustration. Initially Betty Ann worked as an illustrator and created artwork for publications including Cricket, Fine Gardening and Scholastic's Book of Knowledge. For many years now, she has been creating award-winning fine art portraits and landscapes in watercolor and oils, and enjoys plein air painting around New England. She is an experienced painting teacher in many Connecticut art centers and is currently the director of the Candlewood League of Artists.
Elizabeth Barksdale
Elizabeth Barksdale is a practicing artist with an emphasis in sculpture and photography. She loves hand building with clay due to the immense diversity of this malleable material, as well as to the many techniques through which it can be shaped and altered. She has both a BFA from the University of Alabama and an MFA from Georgia Southern University. For her thesis project, she created an outdoor cast metal sculpture with preliminary work in welding and in cast bronze figurative works. In addition to private instruction, Elizabeth has taught in a variety of settings–from businesses to universities to museums. Her public works began in Alabama with the Birmingham Museum of Arts mural outreach program, where she involved local children in the beautification of their own communities. In the New York area, Elizabeth has worked with local groups, municipalities, and organizations, such a Historic Hudson Valley, to create temporary outdoor sculptures open to the public. She has been on both sides of grant writing, as a grant recipient and as a grant coordinator for county and state programs. Elizabeth lives locally where she enjoys time with her family and sharing the beauty of art with others.